Do you want to know who will celebrate this August 15 thanks to the results of the tournaments? Sunday?
Let's immediately open the lobbies of the iPoker and People's Poker rooms to see how the most interesting tournaments of the week ended (and not only). Yesterday's top stackers took eighth (Explosive Sunday) and three (Sunday SUMMER).
So who won? Read our report and you will know all the details… We wish you excellent summer days and see you next weekend for more reports dedicated to Italian Sundays.
€40,000 Explosive Sunday (100 buy-ins, 409 subscribers)
Let's start again with Sunday's bountiful iPoker, which welcomed over 50 stragglers on day two. The total number of registered players thus exceeded 400. From then on, the race for 63 ITM positions began in earnest. The starting price was 96 euros, not counting the bounties.
At 4:24 the winner'Life1s4Gamble'He took 2,864 euros in bounty and a total of 6,421 euros. The podium is completed by "Andreacigna" and "fruitt3lla" with four-digit sizes. Congratulations to them and all the high finalists!
bonus comparator
This comparator compares the welcome bonuses that can currently be checked on the websites of Italian operators. This table is informational and the operators are displayed in random order.
€15,000 Monday LOW (20 buy-ins, 790 subscribers)
We enrich the iPoker chapter with the richest Monday tournament. Here we mark 213 returnees and the beautiful victory of 'LaCiapum'. For him 2,880 euros. The podium is completed by "panzarotto74" and "ACCANITO423".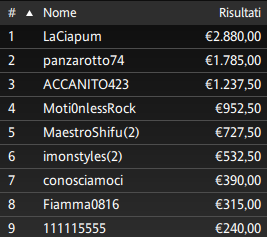 Sunday SUMMER €10,000 (100 buy-ins, 98 subscribers)
Let's finish with the Sunday People's who had 36 stacks left after Day 1 yesterday. As expected, 15 of them placed the flag for at least 211 euros. At 00:32 'LOFDSE' collected 2,435 euros of the first coin. "Livornese728" and "Vincenardu0" complete the podium with 1,798 and 1,294 euros respectively.