Here we are again, we have to do a tour other Italian rooms after we talked about the Sunday PokerStars earlier this morning.
Apparently, iPoker and People's Poker still have the most important results to come. In fact, at Explosive Sunday we don't even have the final tournament numbers.
But in the meantime, congratulations to the Vulcan iPoker Mini Explosive winner. We leave you all the details of the events just mentioned and we will make an appointment for the final results of all Sundays (and not only) tomorrow morning.
€50,000 Explosive Sunday (100 buy-ins, 463 subscribers)
Let's start with Sunday's iPoker, for which registrations are not yet closed. This is nothing new: there is still time until Day 2 to join the party. By now we can tell you that there will be at least 146 stacks in play tonight. Currently 81 ITM positions can be reached and a first coin of over 4,590 euros.
Command the count "hotrr5" before "diader1". Their bounties are very interesting, but even more interesting is the €182 bounty from "Nassa888', currently 33. For you the current top ten in terms of chips…
bonus comparator
This comparator compares the welcome bonuses that can currently be checked on the websites of Italian operators. This table is informational and the operators are displayed in random order.
€15,000 Mini Explosives (buy-in 10, subscribers 720)
Rounding out the iPoker chapter is the tournament, which drew 126 players and ended at 6:30 this morning! We also have to count 432 rebuys and 278 addons. It was 'VOLCANO1999' for prize money of 2,880 euros. The podium is completed by "varrecchia66" and "ginoff". Congratulations to them for their nightly resilience and clarity through the crucial stages.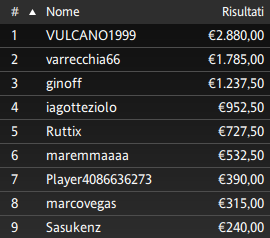 Sunday SUMMER €10,000 (100 buy-ins, 93 subscribers)
We conclude with the Sunday People's Poker, where a few hundred euros are given away with the bursting of the bubble tonight. By now we can tell you that after day 1 there are 31 survivors and 15 of them will raise the flag. The prices are between 211 and 2,435 euros. Dominates the preliminary count 'assopoker123' with 249,667 accumulated stacks. According to 'sconcigli' with 176.154. For you, the first ten of the count…