What happened last Sunday April in the other Italian rooms? As told by PokerStars this morning, we are now opening various lobbies as usual to clarify the general situation.
We're focusing on the iPoker and People's Poker Circuits rooms, where we're recording Sunday classics that have yet to make their judgements. To be honest, we are still a long way from the bubble bursting.
Here are all the details to remind you that Explosive Sunday is keeping registrations open until tonight. So you still have time to take part in one of the richest tournaments of the entire Italian poker week. Good luck especially to our readers!
Event#4 €100,000 Explosive Sunday (100 buy-ins, 654 subscribers)
Of course we start with the iPoker Sunday classic, which includes 106 re-entries. Late registrations are of course still open and therefore the numbers are not final. We can tell you that tonight on Day 2 there will be at least 186 stacks looking for 99 ITMs. The first coin is currently worth 11,026 euros. Command the player's countRealPokerShow' with 249,020 stacks and a bounty of €188. The 219 euro size of the 'sullino1982", Fifth. For you the top ten…
Bonus comparator
This comparator compares the welcome bonuses currently verifiable on Italian operator sites. This table is informational and the operators are displayed in random order.
Event #3 €20,000 Mini Expl (Buy-in 10, subscribers 902)
It continues with the Mini Explosive with 811 rebuys and 213 add-ons. 153 here once again set the flag for at least 30 euros and this morning at 6:42 '10125725' he took €3,822 by lining up everyone at the final table. The second "Ginoff" is enough for 2,360 euros. Congratulations to them, also for the resistance!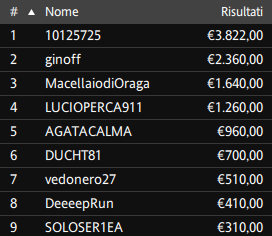 Super Sunday €12,500 Grt (100 buy-ins, 141 subscribers)
We conclude with the Sunday People's Poker, where 52 people are sitting at the tables again this week and there are 23 ITM positions to be reached. The price range goes from 173 to 2,900 euros. dominatePharaoh1881' with 284,410 stacks. The second 'MAGNAMAGNA81' has 217,648 pieces. As for the top ten going into Day 2 tonight… Consider that Sunday's tournament average is 67,788 tokens.