Here we are again to complete the tour of the monday evening in the Italian rooms. Said from PS UltraDeep, let's go to other major lobbies.
Let's focus in particular on the iPoker rooms, where the well-known grinder Simone Demasi raised over €15,000 thanks to Explosive Sunday. He prevailed on Day 2 in the midst of over a thousand participants.
Instead, 'Istrale75' cheers in the crowd. We leave you all the relevant details and wish you a great week at the tables, be it online or live. See you next weekend for more rich and interesting appointments…
€100,000 Explosive Sunday (100 buy-ins, 1,027 subscribers)
Of course we start with Day 2 of Sunday's iPoker. Thanks to late registration, 1,000 registrations were exceeded last night, and 53 people then planted their flag. The minimum prize was 79 euros, not counting the bonuses. At 4:33, everything was hanging at the final table with the triumph of Simone 'BetBetShove94' Demasi (known on stars as 94pazzini94). He received a bounty of 6,803 euros and a total of 15,037 euros. The second 'romanlock' is content with a total of 9,358 euros. Third place for "Maialemaiale".
Bonus comparator
This comparator compares the welcome bonuses currently verifiable on Italian operator sites. This table is informational and the operators are displayed in random order.
€18,000 Monday DEEP (Buy-ins 20, Prizepool 19,448, Entrants 1,105)
We come to the richest tournament on Monday iPoker. Here we mark 297 returns and 180 players in the price for at least 25 euros earned. At 4:40 it all ended with the victory of '89vasqu3z89′ for 3,695 euros. Second place from 2,275 euros for 'sustafc'. Well done to you and the other finalists!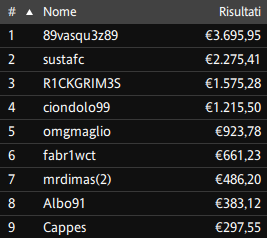 Super Sunday €12,500 Grt (100 buy-ins, 140 subscribers)
We conclude with the Sunday People's Poker, where yesterday's numbers are confirmed. We still had 47 players at the tables and 23 of them placed the ITM of at least 172 euros as planned. The winner 'Istral75' At 12:26 am, for the record, he then took the coveted €2,880. Second place and 2,056 euros for "MUSTACCHIONE100". The "KingMAvE911" (Gabriele Re's historical nickname) completes the podium with 1,479 euros.