Second Sunday of games for the Spring Championship of Online Poker 2023.
There Evening was marked by the departure of 'Sharp 50'the new format non-KO who had plenty of success on his recent PokerStars Winter Series debut.
But from tournaments Interesting there was enough of how interesting they are nicknames got to the bottom. Let's see.
SCOOP-028H: Sunday Rainbow PKO
The €100 buy-in PKO tournament, which starts at 20:00, recorded 1,091 entries and 340 re-entries, bringing the prize pool to €128,970.
At 04.37 this morning victory went to 'Gigggi55' who was good at beating 'Giampy_Inter' heads-up. For the winner, a first coin of over 14,000 euros between sizes and payouts. On the bottom step of the podium Thomas 'zawarella' Zavaroni. Here are the final table payouts:
SCOOP-029 H – SPICY 50
5,617 entries into the non-knockout tournament, which guarantees a first coin of 50,000, increased the prize pool by 2,000 from the 250,000 guaranteed.
At the end of the 24 levels of Day 1, 485 survived: In the chip count at the end of the day, everyone looks down on 'DTuccio'. Here are the top ten:
Bonus comparator
This comparator compares the welcome bonuses currently verifiable on Italian operator sites. This table is informational and the operators are displayed in random order.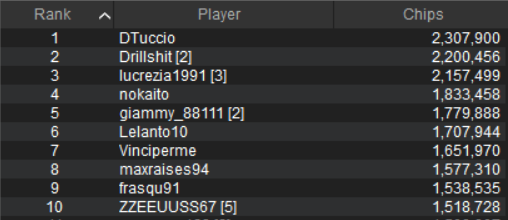 SCOOP-029 L – SPICY 10
The low buy-in version of the Spicy 50 saw 7,442 entries and increased the guaranteed prize pool from €50,000 to €66,978. At the start, the tournament guaranteed a first coin of €10,000, but after the elimination of 'endribf' in fifth place, the four survivors made a deal that gave the highest coin to the final third, 'jahroots1'. Here is the tournament payout: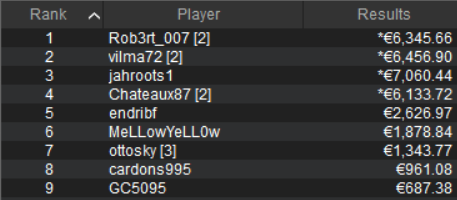 SCOOP-030H: Sunday bloom [7-Max, PKO]
In the €125 buy-in event starting at 22:00, 660 entries and 211 re-entries allowed the prize pool to reach 100,000 (€97,987 to be precise), compared to the 90,000 guaranteed.
The tournament ended at 05:47 when 'LAFAL10' defeated 'KuSuNoK1' heads-up. Here are the top ten from the final table: